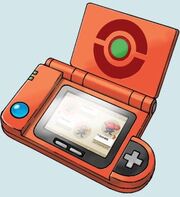 A Pokedex é um dispositivo criado pelo Professor Oak. Ela apresenta informações gerais sobre os pokemons, tais como o nome, tipo, evoluções, descrição, ataques e habilidades.
Dentro do jogo ela nos informa também o level requerido para poder usar o pokemons, o level necessário para a utilização dos ataques do mesmo
assim como o level para evoluí-lo.
Para saber como evoluir um pokemon, acesse a página Tabela de Evoluções.
Lista de Pokemons
Abaixo segue a lista de Pokemons que podem ser encontrados no jogo Pokemon Online.
Para visualizar um pokemon, clique sobre seu nome e voê será redirecionado para uma nova página contendo as informações sobre este.
Ad blocker interference detected!
Wikia is a free-to-use site that makes money from advertising. We have a modified experience for viewers using ad blockers

Wikia is not accessible if you've made further modifications. Remove the custom ad blocker rule(s) and the page will load as expected.